Universal credit is simple: work more and get paid less
This Tory benefit reform was meant to give people incentives to work – but crunch the figures and you find the opposite is true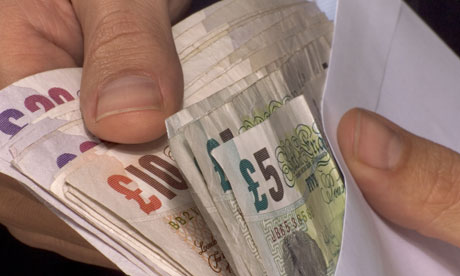 Universal credit may leave workers worse off if they take on too many hours. Photograph: Alamy
12 July 2013
by Polly Toynbee
Remind me, what was the original purpose of universal credit? Department for Work and Pensions minister Lord Freud writes this week, with silky certainty: "The simplicity of universal credit will allow people to see that a move into work or increasing their hours at work will be simple and financially worthwhile." That was always the philosopher's stone in the infinite complexity of benefits policy. So have they fixed it?
A hard blow to that boast is delivered this week in figures on universal credit from the Joseph Rowntree Foundation. Here's the real shocker: families who work full-time can easily find themselves with less money in hand than if they work part-time. Everyone is better off moving into work – as they generally were under Gordon Brown's tax credits – but if a family with young children works more than 10 hours they will generally earn virtually nothing extra, and some will end up with less. This is because universal credit is withdrawn at a steep rate as people earn more.
Take a typical single parent with two children: if she works a day and a half on the minimum wage, it's worth her while and she takes home, with the credit, £268. But if she decides to work three days a week she only earns £6 more. If she goes full-time, she is actually worse off, falling back with £2 less. This, explains economist Donald Hirsch, author of the JRF report, is because as she earns more the withdrawal of universal credit, taxation and childcare costs are so steep.
With two-parent families the disincentive story is the same. In a family with two young children, if one partner works there is no incentive in universal credit for the second partner to take a job. Don't glaze over, look at these figures: if one parent is working full-time on the minimum wage taking home £346 a week, when the other gets a full-time job, their income generally only improves by £29 for her five days at work. (And she earns less full-time than if she worked three days).
This reversal is a direct result of benefit cuts, not counted into early universal credit plans. Instead, ministers continue to make claims they must surely know to be false. Here's Lord Freud again: "As people move into work and work more hours, they will know that universal credit will be on their side and will mean they are better off from working. This is because universal credit will be withdrawn at a consistent and predictable rate as their earnings increase." Freud and Iain Duncan Smith know this is not true – but they have devised a remedy. Is it to restore the cuts causing this, or to soften the taper so universal credit is withdrawn more slowly? No, there are no new carrots, only their new stick. For the first time people in part-time work will be sanctioned with benefit stoppages if they don't prove they are looking for more hours: "in-work conditionality" is the phrase. Many part-timers desperately want more work but can't find it [burgeoning workfare schemes in which the unemployed are forced to work for their benefits benefit employers at the expense of their staff, who find that overtime is no longer available due to the influx of 'forced' labour]. Couples who couldn't find 24 hours of work last year had their benefits cut by a huge £4,000, leaving people frantic for extra work. The hidden under-employed are now to be punished as skivers [while the wealthy Establishment figures who broke the economy are rewarded].
The roll-out of universal credit is slowing down, wisely. "Simplification" of merging benefits turns out to be devilishly complex. It will not now go national in October; there will be just a few pilots, covering only single young people without children to make the sums easy. Council tax doesn't fit inside universal credit, and DWP can't say how or if free school meals and many other benefits fit in.
One blunder follows another. In case you think raising the tax threshold helps the low-paid, the Lib Dem flagship clashes into universal credit. Taxpayers gain £200 for each £1,000 of personal allowance, but those on universal credit only get £70. As for the mad marriage tax break, if couples get £150 a year, workers on universal credit only get £50. Wasn't it meant to get the poor to the altar?
Policymakers always wanted to merge the tax and benefits system to smooth moving in and out of work. But this small administrative efficiency is suffering computer meltdown, say voices within. Universal credit never could be the great "culture change" Duncan Smith and Freud keep claiming, because every benefit system is forever bound by the same dilemma: how to be generous enough to keep the needy above misery without risking work incentives. How do you taper benefits gently as people earn more without rising too high up the scale? Any system has cliff edges. Benefit cuts make these far worse than under tax credits.
So let's hear no more empty boasts about how universal credit does "simplification" and "making work pay", parroted by Tory MPs clueless about how any of it works. Let's look at incentives. What makes people work? A work ethic so deep-dyed in humanity that mighty battalions of people push brooms, clean toilets, labour in call centres and care homes for not that much more than benefits would pay. Few people make those nice calculations – they just work, as no doubt they will under universal credit's rotten incentives.
Let's look what else is happening. The Trussell Trust reveals that three times more households are turning to food banks in desperation in the three months since benefits were cut. The latest JRF report has also shown how far and fast benefit levels are falling below what surveys say the general population regard as a minimum standard of living: a spare pair of shoes, a one-week self-catering UK holiday, one modest birthday present. The Express and Star report that more than 2,000 people applied for 30 part-time, minimum-wage jobs in a West Bromwich cinema, 66:1. The ONS reports the top 20% pay 35.5% in income tax, while the bottom 20% pays 36.6%. The Resolution Foundation reveals that if interest rates rise by the expected 2%, 800,000 families will be tipped over the edge, spending half their income on mortgages and other debts.
What else about work incentives? The Spectator's editor, Fraser Nelson, points out, as Duncan Smith often does, that the present benefit system can take 98% away from claimants as they earn more, in some rare cases. Universal credit is intended to solve that, he writes, bemoaning the "glacial pace" of its roll-out. "It has never been more urgently needed."
What he doesn't say is that universal credit will withdraw 65p from every pound its recipients earn. High earners protested they wouldn't get out of bed when top tax was 50%, so the chancellor obligingly cut it to 45%. While hard-working, honest people on universal credit leave home at dawn, blinds would certainly stay down in Mayfair mansions if they had to pay a 65% tax rate.
• Polly has replied to some of the comments in her thread:
MaxZygo said:
The government's own figures for adult minimum wage from October this year is £6.31 per hour. £346 / £6.31 = 55 hours. Isn't that more than people are allowed to work?
PollyToynbee replies:
No, that sum is pay plus credits to top up families with children so they don't starve, as the minimum wage isn't enough to keep a family's body and soul together. UC will be calculated after tax – which is why the tax cuts do so little for people on UC. A tax cut means less UC…
IanInOz said:
Once people have a job, any job- they can move to full time work. Once you have full-time work, you put in for promotion. Just because you are on the bottom of the heap today does not mean that you will be there for life- unless you choose it! What you make of your life is up to you! Seize the day, seize the hour!
PollyToynbee replies:
Odd, this idea that everyone can be promoted to the top of the pyramid. They can't and won't. A lot of people will stay near the bottom rung, where a mass of cheap labour is required. Almost all the increase in jobs has been in low paid unskilled work, not in jobs further up. Some will always succeed, but the current shape of distribution of earnings/jobs is set to get worse.
craigmelson said:
Love the sense of entitlement here. why should anyone feel like they have the choice to live off the state or work for a living? If you are decline work because benefits make you £2 a week better off, what sympathy should you get from DWP or the public?
PollyToynbee replies:
It's not a choice: sanctions are strict, many thrown off benefits if suspected of not trying hard enough. And often thrown off now when they are. They have to make so many applications each week, that the chance of any application succeeding is very small in high unemployment areas with the most people on benefits. Employers get such stacks of applications they throw them away.