No sex abuse trial for 'frail' Janner
By PRESS ASSOCIATION
16 April 2015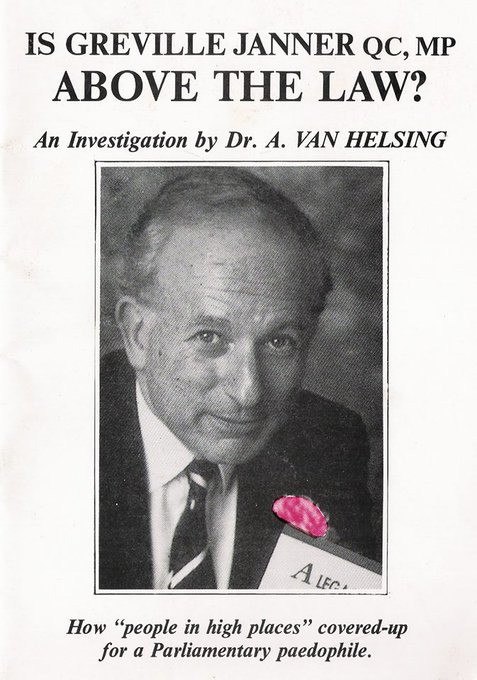 A veteran Labour peer will not stand trial for historic sex abuse allegations because of the "severity" of his dementia.
The Crown Prosecution Service (CPS) said the allegations against Lord Greville Janner QC, 86, are "extremely serious" and the evidence against him would have warranted a criminal trial.
But his poor health means they have decided to not pursue the case in the courts.
In a statement, the CPS said it "considers that the evidential test was passed on the basis that the evidence is sufficient to have warranted charging and prosecuting Lord Janner in relation to the particular charges" relating to nine individuals [this being so, Patria demands: why was Janner not arrested early last year, before his mental state supposedly took such a dramatic turn for the worse?].
But it added: "The CPS has concluded that Lord Greville Janner should not be prosecuted because of the severity of his dementia which means he is not fit to take part in any proceedings, there is no treatment for his condition, and there is no current or future risk of offending."
Lord Janner would have been charged with a string of sex offences against children, the CPS said.
He would have been charged with 14 indecent assaults on a male under 16 between 1969 and 1988; two indecent assaults between 1984 and 1988; four counts of buggery of a male under 16 between 1972 and 1987; and two counts of buggery between 1977 and 1988.
Read more: http://www.dailymail.co.uk/wires/pa/article-3041021/Janner-not-face-abuse-trial.html#ixzz3XSwvWB37
DPP Alison Saunders, who is "very good at compartmentalizing", came highly recommended – by Keir Starmer
Patria says:-
The decision of the Crown Prosecution Service yet again not to prosecute this well-heeled member of the political Establishment need not be the end of the matter.
There is nothing to prevent the twenty-five alleged victims from mounting a private criminal prosecution, other than the financial costs involved, of course.
Assuming the necessary funds could be raised and a private criminal prosecution begun, would the Attorney- General then step in to take over the case in the name of the Crown, or would he step in to quash such a prosecution?
Time will tell. But in the event of a criminal prosecution not materializing, a civil action for damages might be considered by some or all of the alleged victims.
The explanation given by the DPP of the decision not to prosecute Janner relies on the 'fact' that he is suffering from Alzheimer's disease, a progressive dementia for which there is currently no known cure. He was diagnosed in 2009.
Yet, despite supposedly having this condition, Janner was a regular attender at the House of Lords, claiming his £300 per day allowance, right up to December 2013, when his home in Barnet was searched by police. Not only was he a regular attender but he also served on the Consolidation Bills Joint Committee.
If his medical condition did not prevent him from continuing to work in the House of Lords for a period of four years or so following diagnosis, then does it not strike one as a remarkable coincidence, as perhaps just a little too convenient, that it should do so at the very point at which it became known to him that he was again under investigation by the police?
'Manipulation ("putting it on") is "out of the question"' glibly opines the DPP, Mrs Saunders. I should like to know how she can be so sure of that.
Contributing to the work of the House of Lords may not be the ultimate test of cognitive ability. But it surely warrants a defendant being regarded as fit to plead. And if defendants can be tried in absentia, why not in person?
In the past Janner criticized the English jury system for allowing an 86-year-old man to avoid being questioned in 1997, over Nazi atrocities that had taken place in 1941 and 1942.
Szymon Serafinowicz, a retired carpenter from Surrey, was arrested in 1995, the first British citizen to be charged under the War Crimes Act, in connection with the murders of three Jewish people during the Second World War.
He had denied the allegations but could not answer questions during a trial due to having dementia.
"I don't care what bloody age they are," Lord Janner, a former Leicester MP and chairman of the Holocaust Educational Trust, said in 2012, according to The Jewish Chronicle. "These criminals should have been dealt with years ago."
Janner, who is also 86-years-old and inherited his father's seat in the House of Commons, has been suspended by the Labour Party.
Could there be other reasons for the permanent disinclination of the CPS to prosecute this 'pillar of the Establishment'?
Patria is the one and only party with both the courage and the intelligence to put our people first.
Patria, the Home of Patriots, neither left nor right but patriotic.
To save the country for your grandchildren: Vote Patria on 7 May!